Eisenia Hortensis (European Nightcrawlers)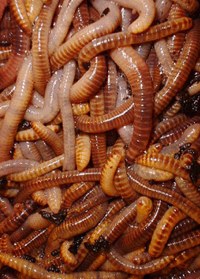 Rapidly gaining recognition as a superior bait worm, this tough skinned, lively worm holds up well in frigid water as well as brackish salt water. They can be refrigerated or kept in bait cups at room temperature for several weeks. Summer heat makes shipping live worms a challenge. Place your order; we will keep our eyes on the temperature patterns and ship your worms at their first "safe-travel" opportunity.
There are approximately 250-300 Nightcrawlers per pound.
Suggested

How to Raise, Store and Sell Nightcrawlers
Price:

$8.00
This is about the tough, big northern nightcrawler so popular with fishermen in many areas -- the worm that brings a premium price.