Can-O-Worms
Our largest worm bin - more worms & more worm castings for your garden and fishing needs.
Free shipping within the Continental United States. For other destinations please call for shipping cost.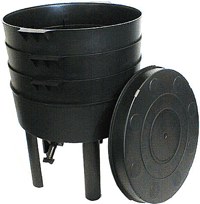 The Can-O-Worms is the largest worm bin offered by The Worm Farm, and is an odorless, user-friendly worm composting system that allows anyone to participate in recycling and garden enrichment through composting. Stacked ring-upon-ring, each section of this 3 tier worm condo can house thousands of worms for composting year round. Each unit features a tap to thoroughly drain moisture from your worm bin. This liquid may be frequently drained and actively aerated to make compost tea, or used directly as a soil amendment your plants will love. Harvesting of nutrient-rich worm castings is easy because your worms from The Worm Farm eat their way up each tier, leaving their rich castings free of worms on the lower tiers. The Can-O-Worms stands on five sturdy legs and is made from durable 100% recycled plastic to give many years of vermicomposting success.
29" High
20" Deep
30 Pounds
Suggested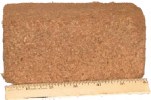 Coco Coir - 1 small brick
Price:

$1.50
An excellent starting material for your worm bin made from coconut husks.

Eisenia Fetida Redworms by The Worm Farm
Redworms are nature's master composters.

Worm Bin Accessory Kit
Price:

$12.95
The basic tools necessary to easily manage your worm bin from The Worm Farm.
Worm Factory Refill Package
Price:

$19.95

Worm Chow
Price:

$7.00
An optimum food supplement for your worms. Give your new earthworms a jump start with a sprinkle (a light dusting) of Worm Chow two or three times a week to keep them fat and happy.