Worm Factory 360
Available in Terracotta, Black and Green. A smart, sustainable design for indoors or outdoors and year-round production. Save money on your composting worms when you purchase the bundle package.
Worms ship separately the following Monday or Tuesday after the Worm Bin ships..
Free shipping within the Continental United States. For other destinations, please call for shipping costs.
| | | |
| --- | --- | --- |
| Product | Price | |
| Worm Factory®360 - black, 4 tray | $109.95 | Add to Cart |
| Worm Factory® 360 - terracotta, 4 tray | $109.95 | Add to Cart |
| Worm Factory®360 - black, 4 tray + 1 lb. Redworms | $138.95 | Add to Cart |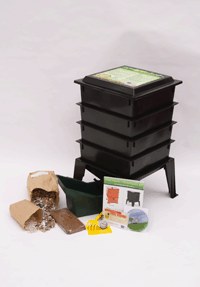 Item on back-order.
Worm Factory 360 DVD Preview
The Worm Factory® 360 has a sleek and innovative design excellent for indoor or outdoor use and year-round production. Odorless and ease of use make this new worm composter an exceptional solution for apartments, kitchens, garages, porches and more. Sold with a standard 4 tray count, it may be expanded up to 8 trays for more compost capacity. The thermo siphon air flow design of the Worm Factory® 360 increases composting speed to produce vermicompost much faster than traditional composting methods. Master Gardeners agree, worm castings are one of the richest forms of fertilizer that you can use. Available in black, green and terracotta. Made in the USA of #2 HDPE plastic. 20 year warranty.
How it works:

Air enters the base on all four sides.
Worms burrow through the compost creating air passages.
Rising heat and compost gases create a thermo siphon, pulling the air upwards through the trays.
Air exits under all four sides of the lid.
Allows 10 times more air circulation than similar composters.
Only 1 step assembly out of the box.
The redesigned lid converts to a handy stand for trays while harvesting the compost.
The accessory kit provides basic tools to make managing the Worm Factory® 360 easier.
---
Included:
(click on the item to learn more or click here for download)
Suggested

Eisenia Fetida Redworms by The Worm Farm
Redworms are nature's master composters.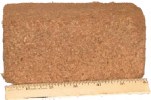 Coco Coir - 1 small brick
Price:

$3.00
An excellent starting material for your worm bin made from coconut husks.

Earthworm Feeds and Feeding
Price:

$10.00
A research report based on many years work and experience solving worm breeding problems.

Larger Red Worms
Price:

$8.00
An interesting report by an earthworm breeder whose eminent success has been due largely to his ability to produce a larger red worm, faster, and at amazingly low cost.

Worm Factory 360 Extra Tray Pack
Price:

$32.00
Worm Factory 360 extra trays for Worm Factory® 360 worm bin.